Wii Remote - Replacing the Player Indicator Lights
Supplies-
Wiimote
Tri-wing screwdriver
Small flathead screwdriver
4 SMDs
Soldering Iron
Soldering Sponge
Solder (Rosin Core; I used .022dia)
Some type of tweezers
Where to get a Tri-wing Screwdriver-
www.sickmods.net
www.ebay.com
My tri-wing screwdriver looks like this-
Where to get SMDs-
www.sickmods.net
www.phenoptix.co.uk
www.ebay.com
SMD Polarity-
Replacing the PILs/SMDs
Step 1-
Disassembling your wiimote:
Use this tutorial-
Link
Step 2-
Locating the SMDs:
The location of the SMDs are indicated by the blue arrows.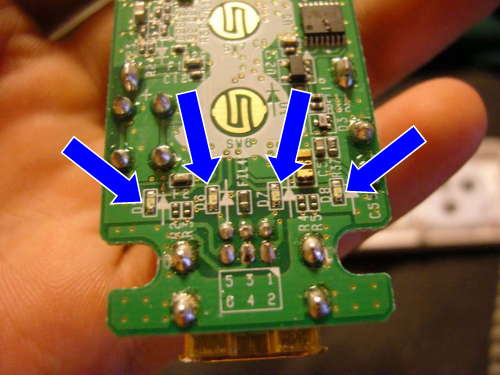 Step 3-
Removing the stock SMDs:
What I like to do to remove SMDs is bathe the SMDs in solder so that solder is touching both the negative side and the positive side of the SMD. Once I got this glob of soldering doing that, I melt it (the glob of solder), thus causing both ends of the SMD to be free. I then remove/drag the SMD off the pad(s) and deposit it into my sponge.
Step 4-
Prepping the solder pads:
I suppose there are a few ways to go about doing this. I personally make little moutains/mounds that point outwards (as in away from each other). But you can just fill the pad with a little solder.. and that would most likely be efficient.
Step 5-
Positioning the SMD:
Pick up your SMD by one side and place it onto the solder pads according to the following picture.
Step 6-
Tacking:
Once it's in place. Take your soldering iron and touch down on the metal tab (on the side of the SMD) or the solder. The solder will melt and one side of the SMD will now be attached.
Step 7-
Finishing:
Now that one side has been tacked, go ahead and tack the other side. Repeat 3 more times.
Step 8-
Testing:
Place the PCB back into the bottom half of your wiimote. Then plug your batteries in. Press the B button and if your SMDs light up, you did it correctly!
Please note- Be sure to test this with new/fully charged batteries! The PILs do not only indicate what player you are, but also your battery level. If your batteries are only 3/4 fully charged, then your wiimote will only flash 3 lights. 1/2 fully charged, 2 lights. 1/4 fully charged, 1 light. So don't get upset/pissed if your 2nd/3rd/4th SMD doesn't light up. Try different batteries!
Step 9-
Reassembling and final testing:
Go ahead and reassemble your wiimote. Be sure to refer back to Step 1 if you need help. To test, make sure your batteries are in, and just go ahead and press any button. Here's what mine looks like-